Toyota Brake Service & Repairs in Lafayette, IN
Help your Toyota perform at its best by equipping it with Genuine Toyota Parts. Our Toyota brake supplies and parts have been specially engineered to provide superior braking performance and smoother stopping, while producing lower amounts of dust and a quieter ride. Since our brake pads match your Toyota's original equipment quality, you'll receive the same great performance you did the day you drove it off the lot, and your new parts will last longer than any generic alternative.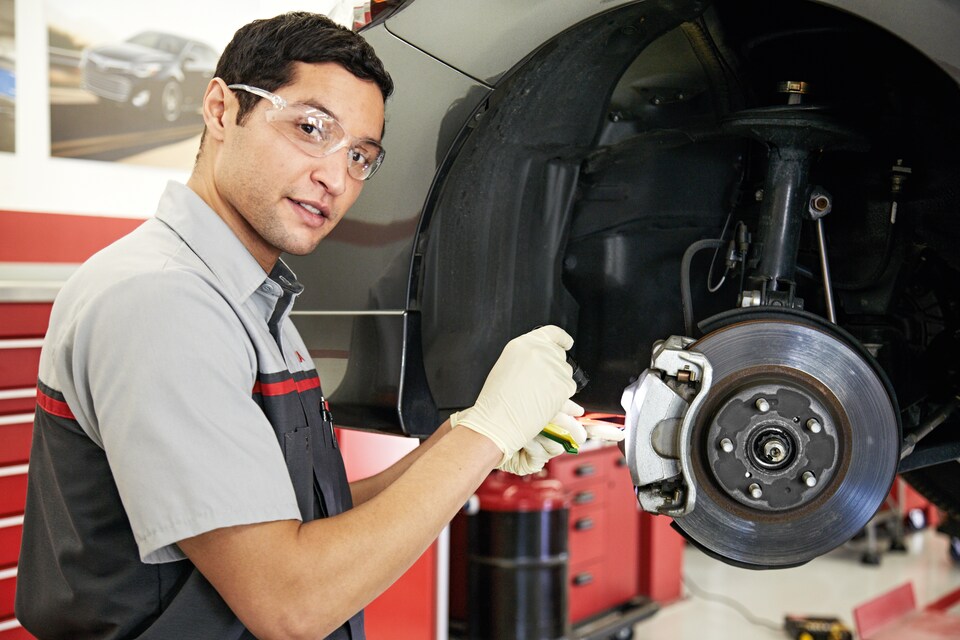 Signs Your Toyota May Need Brake Service
Taking longer to come to a full stop
Excessive brake noise
Abnormal brake pedal feel
Pulling or vibration during braking
Excessive brake dust on wheels
How often should my brakes be inspected?
Many Lafayette drivers commonly ask when it's a good time for brakes to be inspected.
As such, for a preventive approach, brake systems should be inspected with your regular oil change. This remains the perfect opportunity for our industry-certified technicians to pore over each part for any issues.
It's also good to have the following tasks performed during your oil change in Lafayette:
Tire rotations for optimal tire vitality.
Battery testing to ensure capacity and charging.
Fluids topped off and wiper blades replaced.
How Often Are Brake Pad Replacements Needed?
Brake pads typically wear down over time, and become less effective as they wear. Similar to checking your tire tread, having a Toyota service pro inspect your brake pads can help keep you safe in your vehicle. Brake pads measuring less than 3 millimeters thick are recommended to be replaced, and generally we like to see brake pads at least 7 millimeters thick to be considered in good condition. We recommend having our mechanics measure your brake pad thickness at each regular service interval.
Let Our Toyota Mechanics Inspect Your Brakes Today
For all your important vehicle maintenance tasks and systems' servicing, contact us to set an appointment at a date and time convenient. Book a service visit online and let our factory-trained Toyota mechanics keep your vehicle running (and stopping) its best.