Toyota Oil Changes in Lafayette, IN
As the lifeblood of your Toyota engine, oil plays an all-important role to keep your vehicle running smoothly. Regular oil changes are one of the most important preventative maintenance measures for your car, truck or SUV. Our Toyota service center uses genuine Toyota and Mobil 1 Motor Oils meet the specifications for your Toyota to help optimize vehicle performance, reliability, and fuel economy. We encourage you to book your next oil change at our service shop in Lafayette, Indiana. Our team of factory-trained technicians has the know-how and expertise to help keep your Toyota running its best for the road ahead.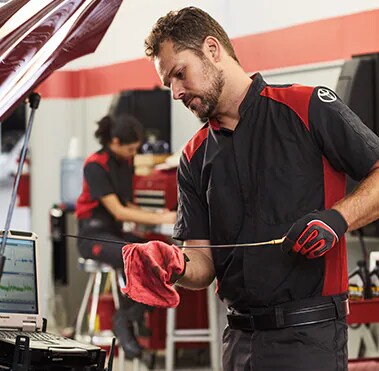 What are the signs my Toyota oil needs to be changed?
It's not that complicated to recognize the signs of an impending oil change. And even as a layperson, you may be able to discern the need yourself.
With inspecting the oil dipstick, if your oil is leaving behind dark residue, your oil likely needs to be changed. Likewise, if your noticed a burnt odor while driving your oil level may be low, or it's possible your currently oil has degraded to the point where it's no longer effectively lubricating your engine parts.
One thing is certain, never wait for the oil-pan warning light to come on. An oil warning light generally means your oil has reached a dangerously low level. Also, when you've parked your car, take note if you see any oil stains on your garage floor or in your driveway as these could indicate a potential oil leak. Our Toyota service experts can handle all your oil maintenance needs with ease, but being consistent about regular oil change appointments is the best way to prevent other oil & engine-related issues & keep your car running its best.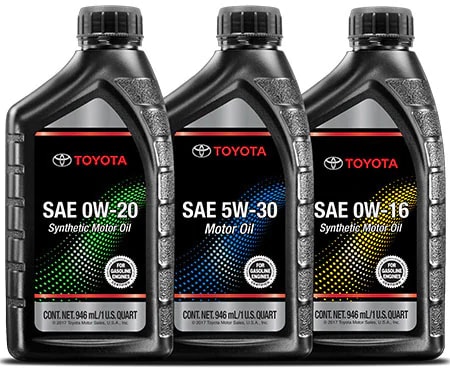 How is synthetic oil different than conventional oil?
Synthetic oil brings with it a blend of chemical compounds that get the most out of petroleum molecules. This process enables an optimal level of lubrication for those internal engine parts working under extreme stress.
Synthetic oil tends to have a higher price-point than conventional oil, but in exchange it lasts longer so with synthetic oil you end up needing oil changes less frequently. In the long run, this means synthetic oil is often more cost effective than conventional.
Synthetic oil can also benefit your car's fuel economy. Synthetic oil can help improve your Toyota's fuel economy by half a mile per gallon of gasoline, which adds up over time.
How often does my Toyota oil need to be changed?
Typically, oil changes are recommended every 5,000-7,500 miles depending on the age of your vehicle and what type of oil you use. Synthetic oil tends to take longer to break down compared to conventional, so that means you can get drive more miles between oil changes if you opt for full-synthetic oil. Its best to refer to your vehicle's owners manual for its recommended oil change intervals, or ask our techs based to look up the info based on your car's VIN. That said, ideally summer & winter seasonal oil changes are recommended regardless of how much you've been driving.
Around Lafayette, IN, seasonal service for your Toyota is highly recommended so our service team can time your seasonal oil change with any tire rotations & fluid replenishment to make sure you're ready for colder or warmer weather.
Bob Rohrman Toyota Lafayette - Contact Us for a Service Appointment
Let our expert technicians determine the need of a Toyota oil change. Set a convenient day and time by contacting us directly.